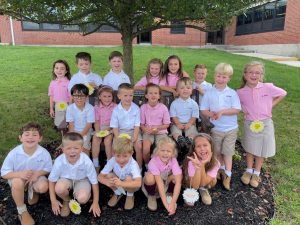 Welcome to KN!
Upcoming Events/Reminders:
1/23: Scholastic orders due
1/24: K-2 Liturgy at 9:00 in Church; all are welcome to attend
1/29: Opening of Catholic Schools Week Liturgy at 11:00 in Church; all are welcome to attend
2/1: Kindergarten play at 10:30 in Rec Center
KN Specials Schedule:
Monday: Library: 10:45-11:30
Tuesday: Computer: 10:45-11:30
Wednesday: Gym
Thursday: Music
Week of Monday, January 16, 2023
This week,
we will continue with Module 4 in ELA: Happy Healthy Me. In phonological awareness, we will identify medial vowel sounds, isolate medial vowel sounds, blend phonemes into words, and produce rhymes. Our topic words for this module are energy, exercise, and healthy. Our new Power Words (vocabulary words) this week are muscles, relaxing, and take care . Our new letter this week is short o /o/ as we hear in octopus, octagon and otter and box, cot, and mop. We will continue building and blending short a /a/  and short i /i/ CVC (consonant-vowel-consonant) words. Our decodable texts are Big Bag, Kip, and Pot of Pods. Please have your child read these to you at home. We will practice writing upper and lowercase letter Oo and complete phonics pages. Our new new words this week are got, here, on, and of. Please continue practicing our sight words at home. We will continue practicing writing our last name. We will continue with our journal writing using our sight words in our sentences and how to keep germs away. We will complete the Module 3 Assessment.
In Math, we will finish Module 7: Represent Numbers 6 to 10 with Objects. We will use various objects to represent and count numbers 6 to 10. We will practice writing the numbers 6 to 10. We will complete the Module 7 test.
In Religion, we will continue praying the "Prayer to the Guardian Angel". We will finish with Chapter 7: Ordinary Time. We will learn that during Ordinary Time we celebrate the lives of the saints.
Our Let's Find Out topic is "Penguins Don't Need Snow Boots!"
Our STREAM activity this week is a winter snowflake experiment. We will make crystals.
Please have your child practice his/her address, phone number, tying shoes, and birthday. 
Scholastic: Please be sure to place all orders online! They are due Monday,1/23. Here is the link to shop Our Class Page: https://orders.scholastic.com/
Sight Words: the, a, see, red, I, by, my, to, yellow, am, at, go, blue, is, man, no, orange, and, can, you, green, an, has, it, purple, he, ran, she, brown, did, in, put, black, me, sits, with, white, big, good, his, very, got, here, on, of
Homework: No homework until after the New Year!
Tuesday: Math Pages
Wednesday: bring 4 pictures to school on Thursday: two pictures that begin with the letter Oo, short o as in otter, olive, and ox and two pictures that have the short o in the middle as in pop, fox, and pot; worksheet in folder
Thursday: practice sight word cards; practice writing letter Oo
Child of the Week:
1/23 – Brooklyn
Parent Volunteer Sign Ups:
Guest Reader: https://www.signupgenius.com/go/30e0a4dafae28a4f94-knguest
Art Express: https://www.signupgenius.com/go/10C0C4BA8A62BA2FCCE9-artexpress1
Specials Helpers: https://www.signupgenius.com/go/5080E45A8AC2AA2FD0-knspecials
Class List:
Freddy Baker                                                                       Giselle D'Amico
Mason Bitterman                                                                 Lyla Haug
Dominic Cimorelli                                                                Alexandra Knox
Timmy Dalhoff                                                                     Sylvia Lucard
Jacob Fox                                                                             Brooklyn McClain
James John                                                                          Sloane McPhilemy
Tommy Knoll                                                                        Siena Passero
Joseph McAnany                                                                  Azul Romano
JD Quinn
Beau  Richardson