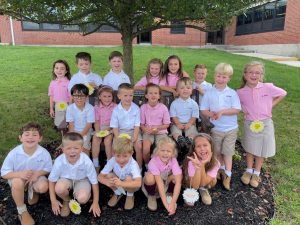 Welcome to KN!
Upcoming Events/Reminders:
10/7: Walk-a-thon, 9:30 am
10/7: Noon Dismissal; Faculty Meeting
10/20: Noon Dismissal; Parent Teacher Conferences
10/21: No School; Parent Teacher Conferences
KN Specials Schedule:
Monday: Library: 10:45-11:30
Tuesday: Computer: 10:45-11:30
Wednesday: Gym
Thursday: Music
Week of Monday, September 26, 2022
This week in KN, we will continue work on our fine motor skills using our pencils, crayons, scissors, and glue. We will practice writing our name.
We will continue with Module 1 in ELA: Curious About Kindergarten. In phonological awareness, we will identify rhymes and identify syllables. Our Power Words (vocabulary words) this week are academic clue, mistake, puzzled. Our letter of the week is Ss; our alphafriend is Serena Seahorse. We will practice writing upper and lowercase Ss and complete phonics pages on the letter Ss. Our words this week are I, by, my, to, yellow. In grammar, we will introduce verbs. In reading, we will introduce genre: poetry. We will continue with our journal writing using our new words in our sentences. We will write about the fall.
In Math, we will finish Module 1: Count and Sequence Numbers to 5. We will take the Module 1 test. We will introduce Module 2: Represent Numbers to 5 with a Written Numeral. We will count and write 0 to 5. We will understand the written numerals by counting and writing 0 to 5. We will understand each successive number refers to a quantity that is one larger by using objects to demonstrate the order of numbers.
In Religion, we will continue practicing how to make the Sign of the Cross. We will continue to pray the Children's Suscipe prayer together each morning. We will finish Chapter 2: God Gives Us the Light and at the end of the week we will begin Chapter 3: God Gives Us water.
Our Let's Find Out topics this week are "Try Your Best!" & "Backyard Animals Explore!"
Our STREAM activity will be a science experiment: An Apple Volcano!
Please have your child practice his/her address, phone number, tying shoes, and birthday. 
Scholastic: Please be sure to place all orders online! They are due 10/28. Here is the link to shop Our Class Page: https://orders.scholastic.com/
Sight Words: the, a, see, red, I, by, my, to, yellow
Homework: 
Tuesday: Find two pictures (small) that begin with Ss and bring to school Wednesday. They may be printed, drawn, or cut from a magazine. Complete "to" worksheet in folder.
Wednesday: Math Workseets
Thursdays: Practice writing letter Ss in copybook. Please use pencil and follow the format. Practice reading word cards. Please make a set to keep at home.
Child of the Week:
9/26 – Giselle
10/3 – JD
10/10 – Jacob
10/17 – Timmy
10/24 – Alexandra
Class List:
Freddy Baker                                                                       Giselle D'Amico
Mason Bitterman                                                                 Lyla Haug
Dominic Cimorelli                                                                Alexandra Knox
Timmy Dalhoff                                                                     Sylvia Lucard
Jacob Fox                                                                             Brooklyn McClain
James John                                                                          Sloane McPhilemy
Tommy Knoll                                                                        Siena Passero
Joseph McAnany                                                                  Azul Romano
JD Quinn
Beau  Richardson