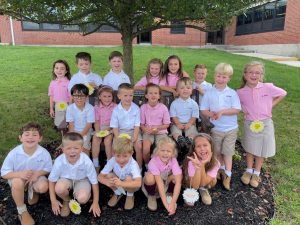 Welcome to KN!
Upcoming Events/Reminders:
6/2: May Fair; please refer to info sent; please plan to attend
6/8: Closing Program at 10:30 in Rec Center; dismissal immediately follows; this is our last day!
KN Specials Schedule:
Monday: Library: 10:45-11:30
Tuesday: Computer: 10:45-11:30
Wednesday: Gym
Thursday: Music
Week of Monday, May 30, 2023
This week we will introduce Module 7 in ELA: Zoom In! In phonological awareness, we will isolate initial sounds and segment words into phonemes. Our topic words for this module are watch, wonder, and world. Our Power Words (vocabulary words) this week are care, decide, and real. In phonics, we will review double final consonants, final -ck, and digraphs. Our decodable text is "Bugs, bugs, bugs!". Please have your child read these to you at home. We will practice writing upper and lowercase letters; we will complete phonics pages. Our new sight words this week are tell, well, your, and who. Please continue practicing all of our sight words at home. We will continue with our journal writing using our sight words in our sentences. We will write about our butterflies and pages from our memory book.
In Math, we work on Module 17: Place Value Foundations: Represent Numbers to 20. We will compose ten ones and some more ones from 11-19. We will represent numbers to 20.
In Religion, we will pray the "Hail Mary" for May. We will move to Chapter 15: God Chooses Mary. We will learn that God chose Mary to be the Mother of his Son and that Mary loved God very much.
Our new Let's Find Out this week is "A Hermit Crabs Home".
Please have your child practice his/her address, phone number, tying shoes, and birthday. 
Scholastic: Please be sure to place all orders online! Our last scholastic order for the year will be due Monday, 5/22. Here is the link to shop Our Class Page: https://orders.scholastic.com/
Sight Words:
the, a, see, red, I, by, my, to, yellow, am, at, go, blue, is, man, no, orange, and, can, you, green, an, has, it, purple, he, ran, she, brown, did, in, put, black, me, sits, with, white, big, good, his, very, got, here, on, of, are, lot, not, was, pink, had, be, do, ten, up, but, look, him, us, for, her, help, they, yes, too, have, six, some, we, get, hot, or, where, come, from, if, stop, as, that, our, cut, must, said, when, down, off, so, will, back, let, were, what, could, now, then, this, tell, well, your, who, tell, well, who, your
Homework: There will be no more homework for this year! Please continue practicing your word cards at home and practice show lines!
Child of the Week:
Parent Volunteer Sign Ups:
Guest Reader: https://www.signupgenius.com/go/30e0a4dafae28a4f94-knguest
Art Express: https://www.signupgenius.com/go/10C0C4BA8A62BA2FCCE9-artexpress1
Specials Helpers: https://www.signupgenius.com/go/5080E45A8AC2AA2FD0-knspecials
Class List:
Freddy Baker                                                                       Giselle D'Amico
Mason Bitterman                                                                 Lyla Haug
Dominic Cimorelli                                                                Alexandra Knox
Timmy Dalhoff                                                                     Sylvia Lucard
Jacob Fox                                                                             Brooklyn McClain
James John                                                                          Sloane McPhilemy
Tommy Knoll                                                                        Siena Passero
Joseph McAnany                                                                  Azul Romano
JD Quinn
Beau  Richardson