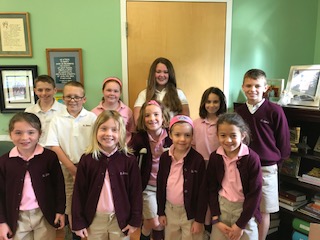 All of our students in Grades K through 5 were able to submit either an original drawing (K – 2) or an original poem (Grades 3 – 5) that demonstrated each individuals responsibility to Care of the Earth! The children pictured above are selected winners. The winners were chosen by The Whitpain Township Shade Tree Commission. We are very proud of our many SHS winners!
Andrew Kern – 1G
Bridget Connor – 1G
Mary Werner – 1B
Avery McNiven – 2H
Kayleigh Rose – 2H
Courtney Gallagher – 2H
Ynez Doyle – 3O
Lizzie Organsky – 3O
Nicole Tralies – 4C
Davide Merone – 4V
Olivia Peticca – 4V
Molly Lau – 5G
Brian Tralies – 5S
Lance Gundlach – 5S
Congratulations and Thank You for taking seriously the Gospel mandate to Care for Our Earth!