Welcome to Mrs. Britt's Classroom!
drosebritt@sainthelenaschool.org
---
STEP INTO HISTORY IN 7B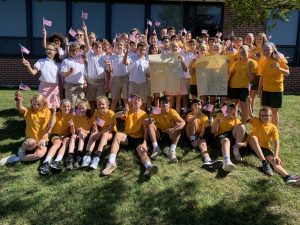 Happy Constitution Day!
September 17, 1787
"Study history, study history.  In history lies all the secrets of statecraft."
Sir Winston Churchill
Mrs. Britt's Social Studies Links
American Revolution
U.S. Constitution
War of 1812
American Civil War
Spanish-American War
World War I
World War II – BBC
World War II – History Place
Korean War
The History Place
American History – Presidents Time Line
Social Studies Textbook Resource (Holt)
Mrs. Britt's Science Links
Astronomy
Chemistry, Biology, Physics, Earth Science for Kids
National Oceanic and Atmospheric Administration
Energy Sources for Kids
Glencoe Life Science Textbook
Homework Assignments

Stationery Supplies for Parents to Purchase for September
Please bring all supplies in on the first day of school.
There will be no sharing of materials.  Please label students' belongings.
Multi-pocket accordion folder with labels for subjects

Pencil case labeled with name

Blue and/or black pens 

Red pens

Light-colored highlighters

#2 pencils

Small glue stick and/or Scotch tape for pencil case (needed for social studies and science worksheets)

Art box (small) with crayons and/or colored pencils, markers, scissors, Scotch tape, large glue stick, liquid glue

Homework tablet (may be purchased at school for $3.00)

7 Copybooks (Hardcover, marble, NOT softcover or college ruled)
Other items students should have available at home:
White loose leaf paper

White computer paper

Pens, pencils, and highlighters 
Homework Assignments
See Google Classroom for Virtual Instruction Materials/Postings
Social Studies 8D and 8R     Google Classroom  8D – jwujorw; 8R – tjwesqx.
CONGRATULATIONS TO THE CLASS OF 2020! 

Social Studies 7B and 7S      Google Classroom 7B – orxlack; 7S – ghv4i55   
Stay Safe and Well!  Enjoy the Summer!  See You in September!

Life Science 7B and 7S         Google Classroom 7B – xilkv4b; 7S – lu73hmh.
Homeroom Notes
–My e-mail address is drosebritt@sainthelenaschool.org.  
-Please e-mail me if you have any questions or problems.