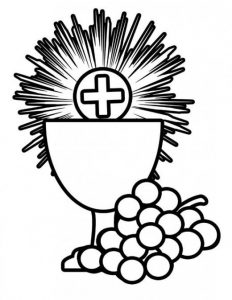 Email
djames@sainthelenaschool.org
Week of April 18, 2021
This Week
Friday – First Holy Communion Banner due
Next Week
Saturday – First Holy Communion at 10:30 am – please arrive at 10:00 am
St. Helena Parish Livestream Link
https://livestream.com/sthelena
Homework
Monday
Math – 593-594
ELA – 159-160
Spelling – complete one Tic Tac Toe activity
Religion – none
Optional – Seesaw, IXL, & read independently for at least ten minutes
Tuesday
Math – complete review packet
ELA – 163 & 166
Spelling – choose one Tic Tac Toe activity
Religion – review study sheet
Optional – Seesaw, IXL, & read independently for at least ten minutes
Wednesday
Math – Chapter 8 Extra Practice worksheet & test tomorrow
ELA – 167 & 169
Spelling – choose one Tic Tac Toe activity
Religion – review study sheet
Optional – Seesaw, IXL, & read independently for at least ten minutes
Reminders – gym & violin tomorrow; First Holy Communion Banner due on Friday
Thursday
Math – none
ELA – tests tomorrow
Spelling – test tomorrow
Religion – review study sheet for test tomorrow
Optional – Seesaw, IXL, & read independently for at least ten minutes
Reminders – First Holy Communion banner due tomorrow
Tests This Week
Thursday – Math Test: Chapter 8
Friday – ELA Tests: Lesson 26 Spelling, Phonics/Grammar, Vocab/Comprehension, & Religion Test: Chapter 6
Tests Next Week
Friday – ELA Tests: Lesson 27 Spelling, Phonics/Grammar, & Vocab/Comprehension
Specials & Lessons
Tuesday – Music
Wednesday – Piano
Thursday – Gym & Violin
Parent Reminders
Please make sure your child brings:
-a towel each Monday
-a nut-free snack & lunch
-enough water for the entire day
-at least five sharpened pencils each day
-an independent reading book(s)
-personal size hand sanitizer
-personal size tissues
-at least two additional face masks*
*Please make sure your child wears a mask that fits properly.  The fit should be snug, completely covering your child's nose & mouth.
English & Language Arts
Lesson 26: The Mysterious Tadpole
Vocabulary Words
1. confused – unable to understand what is happening
2. sensible – showing good judgement
3. upset – unhappy or worried
4. control – the power to make things happen the way you want them to
5. suspiciously – in a way that shows you do not trust someone or something
6. training – the process of being taught something or preparing for something
7. cage – an enclosure made with wire or bars meant to keep something inside of it
8. ordinary – average or common; not special
Spelling Words
1. root
2. crew
3. spoon
4. few
5. bloom
6. grew
7. room
8. you
9. stew
10. boost
11. scoop
12. flew
13. shampoo
14. balloon
Religion
Prayer of Sorrow
O my God, I am sorry for my sins with all my heart.
In choosing to do wrong and failing to do good,
I have sinned against you whom I should love above all things.
I firmly intend, with your help, to do penance, to sin no more,
and avoid whatever leads me to sin.
Our Savior Jesus Christ suffered and died for us.
In His name, my God have mercy.
Amen.
Scholastic Book Club
Class Page: https://orders.scholastic.com/XMRPK
Class Code: XMRPK
Online Resources
Seesaw – new activities added most week days
IXL – skill plans updated weekly
https://www.ixl.com/signin/sainthelena
ThinkCentral – math & language arts resource
https://www-k6.thinkcentral.com/ePC/start.do
– Log On Information
 Fill in the following information:
Country – United States

State – Pennsylvania

District – Archdiocese of Phil Ed Office, Philadelphia 19103

School – Saint Helena School, Blue Bell, 19422

Username and Password – (see slip of paper in your child's folder)
 Click "Log In"

 Click "My Library"

Select "Math" or "Reading" under "Library" (left side of the page)
– Math Resources
GO Math! Student Edition eBook, G2 – This is an online version of your child's textbook.
GO Math! Animated Math Models, G2 – Mini interactive videos featuring Curious George.
GO Math! Multimedia eGlossary, K-6 – Click "Grade 2" & see visual aids on what certain math vocabulary words mean and look like.
Interactive Student Edition, G2– Fun animated videos walking through skills taught in class.
Math on the Spot Video Tutorial, K-6 – Fun videos & step-by-step procedures on completing word problems & other skills taught in class.
Mega Math – Fun math games intended to challenge math skills.
– Language Arts Resources
Student ebook – This is an online version of your child's textbook.
Close Reader – This is an online version of the workbook used in class.
Reader's Notebook – This is an online version of the workbook used in class & for homework.
GrammarSnap Videos – These videos provide a review of certain grammar concepts.
Class List
Boys
1. Luca Addesso
2. Vincent Antonelli
3. Jack Borelli
4. Sam Bottcher
5. Hunter Cooney
6. R.J. DeOrzio
7. Ben Guenther
8. Jack Santana
9. Michael Traver
10. Liam Yun
Girls
11. Kaitlyn Buckley
12. Emma Farrell
13. Anna Filoreto
14. Imogen Foley
15. Aubrey Graybehl
16. Riley Maxwell
17. Quinn Pantaleo
18. Crosley Richardson
19. Molly Richer
20. Bianca Sheldon
21. Kora Short
22. Alyssa Tedesco
23. Giovanna Van Dam
24. Vivienne Williams
Dear Second Grade Parents,
Welcome back!  My name is Mrs. Danielle Fitzgerald James and I am privileged and delighted to be your child's teacher.   Second grade is a busy, exciting year.  Our children will grow academically as they learn many new and wonderful things.  Together we will support their spiritual growth as they prepare to receive the Sacraments of Reconciliation and First Holy Communion.  I am excited to enjoy this memorable journey together with you.
This will be a year like no other.  I am optimistic that the plans put in place will foster a safe, supportive, and positive learning environment.  Much forethought has gone into welcoming our students back into the building and our classrooms.  Thank you in advance for supporting the protocols that have been put into place surrounding the safety needs of our children. Please read the Back to School Best Practices, Policies, and Procedures, developed by the Saint Helena School Task Force Committee, that was sent out via email.  The handbook contains information that is not touched upon in this letter.
It is important to check your children's temperature before sending them to school. Temperature checks will be conducted on each student before entering the building and anyone with a temperature of 100.4 or above will be sent home.

Masks are required to be worn by students and staff at all times, with the exception of ten minutes in the morning, while eating lunch and during recess, and ten minutes in the afternoon. Social distancing will be practiced during these mask breaks.

Students will remain in their classroom cohorts all day. Our classroom desks and frequently touched areas will be cleaned multiple times a day.  Children will be using their own supplies and will not be permitted to share.  The water fountains in the building are inoperable, so we ask that each student bring a large, spill-proof water bottle daily.
School Supplies
Zippered pencil case

Six sharpened #2 pencils

2 erasers

Art box (clear, shoe box size)

Box of magic markers

Box of crayons (no larger than a 24 pack)

2 Elmer's Large Glue Sticks

Bottle of Elmer's or Crayola Liquid Glue

Art smock or tee shirt

1 or 2 activity or coloring books (for indoor recess)

2 silent reading books

2 individual packs of tissues

2 bottles of hand sanitizer (small, individual size)

3 masks (in case mask is lost, breaks, becomes dirty, etc.)

Container of disinfecting wipes

Package of small, brown paper bags

Large, spill-proof water bottle

Beach towel (for outside snack and lunch; will be sent home at the end of each week)
School-Provided Supplies Fee and Art Fee
Please send $29.15 in an envelope marked "School Supplies" with your child's name and grade.  An itemized list is below:
$7.40 – 4 copybooks at $1.85 each

$3.50 – Assignment Book

$6.00 – 3 Plastic Folders

$2.00 – Scissors

$10.25 – Scholastic News Week, Scholastic Election Booklet, and Science Spin
Also, please send $20.00 in a separate envelope marked "Art Fee" with your child's name and grade.  If you are writing a check, please make it payable to Saint Helena School.
Homework
Children will now copy homework in their assignment book daily. Please sign the assignment book each night. Your signature tells me that the homework has been checked for accuracy and completion. Homework is a review of that day's school work and should take about 30 minutes to complete. If your child is having difficulty with that night's assignment, please write me a note in their assignment book. Any loose homework papers will be sent home in the H folder. Other completed school work will also be sent home in this folder and can be removed and kept at home. Tests and quizzes will be sent home in the T folder for you to review, sign, and return to school.  Please keep in mind that homework is subject to change as we determine what is most appropriate during this time.
Absence
If your child will be absent, please call the office and send me an email.  Your child will bring home any missed work to be completed and will be given the amount of days absent to complete the assignments.
Birthdays
Birthdays will be recognized and your child will be celebrated, but please do not send in treats to share at this time.
Labeling
In addition to your child's school supplies, please label your child's gym sweats & uniform sweater.  There will be no Lost and Found at this time.
Snack and Lunch
This year our school is nut free.  Please check labels carefully.  Also, please only pack food packages that your child is able to open independently.  For example, GoGurts, fruit snacks, and Capri Sun juice "boxes" are notoriously hard for little fingers to open.  No items will be available for purchase. Students need to come to school with a packed snack, lunch, and drink each day.  Children will not be using the water fountains, so it is important that they have a larger-size, spill-proof water bottle.    Please pack a beach towel to be used for socially distant outdoor seating.  Towels will be sent home at the end of each week to be washed.
Dismissal
Please email me your child's primary source of transportation. If your child will be taking an alternative form of transportation home at any time, please remember to send in a note or call the office no later than 2:15 PM.
Thank you for your boundless support during this unsettled time.  Our Saint Helena community is incomparable and I know that together we will create a safe, happy, memorable year for our children.
Please do not hesitate to email me at djames@sainthelenaschool.org with any questions or concerns.