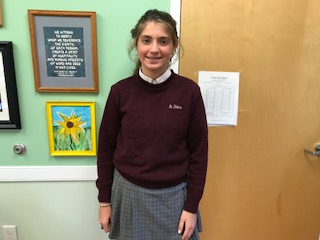 We just received word this morning that Mia Bones, has been chosen as a Chappell Culpeper Scholar by the Archbishop Carroll Scholarship Committee and the Chappell Culpeper Foundation. This award is in the amount of $20,000.
Along with the prestige of being named a Chappell Culpeper Scholar and the monetary award that accompanies the scholarship, another benefit is knowing that the Chappell Culpeper Foundation will have an active interest in following you throughout your high school career at Carroll.
Mia has worked extremely hard since her very first day at SHS. We, Your Parish, Faculty and Classmates are all very proud of you for being chosen for this award! Congratulations, Mia!